---
---
Adjustable Dog Muzzle Mouth Cover Anti-Biting Anti-Barking Anti-Chewing UK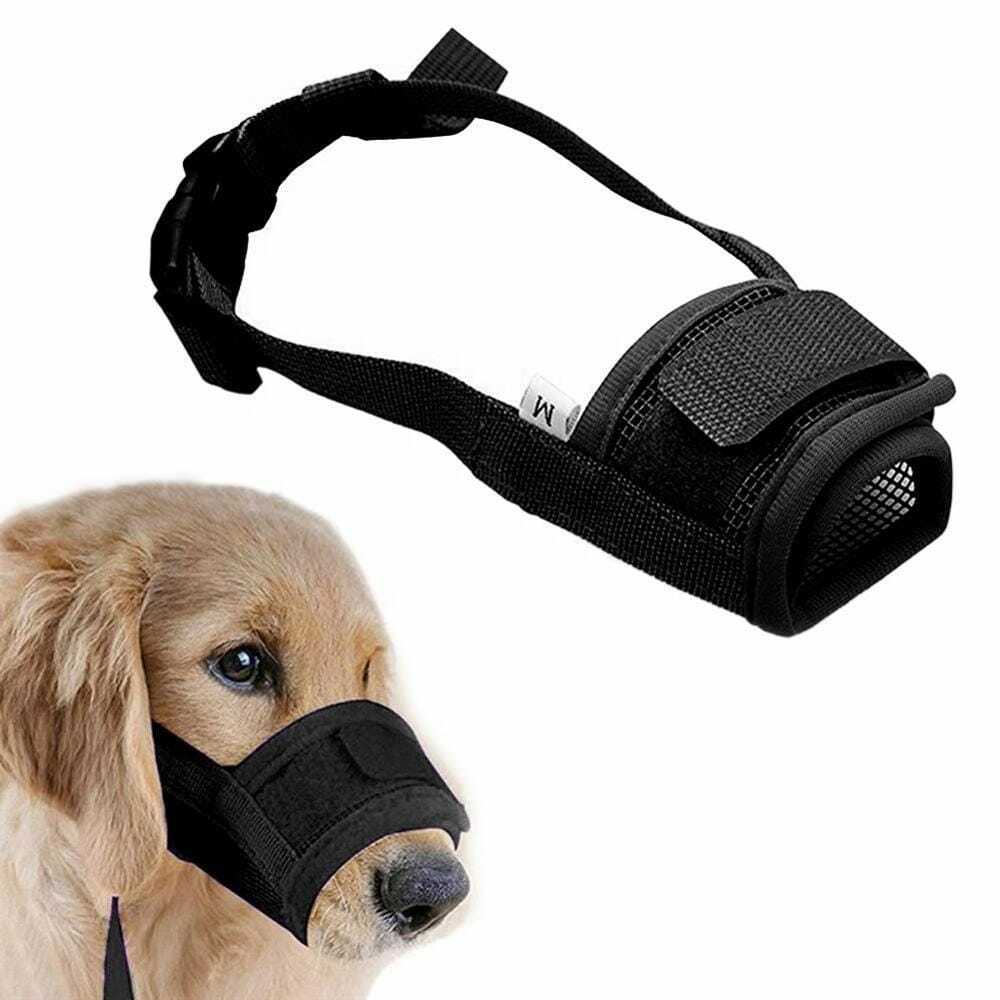 FEATURES:
The length of the strap can be adjusted according to the mouth size of your dogs so there is no need to worry about whether the size fits or not.

And the added slider on the strap makes it much easier to adjust the length than before.

will not easy to be damaged by dogs.
It has good air permeability and is soft and lightweight.
Dogs will not feel stuffy or heavy when wearing 
it very friendly to dogs.
can not only prevent dogs from inadvertently biting or hurting others but can also effectively prevent dogs from chewing unclean food outsides.
It also prevents dogs from barking and bothering others' work and rest.
The high quality materials ensure that the muzzle won't break, tear or snap and is suitable for even the biggest and strongest of dogs.
The adaptability ensures that the muzzle isn't too tight or too loose but leaves enough room for your dog to pant and drink.
Size Description
Small Size:      14-18cm Approx.
Medium Size:   15-20cm Approx.
Large Size:  16-23cmApprox.
Extra Large: 22-26cm Approx.
Extra Extra Large: 28-34cm Approx.
Note: The size is slightly smaller than the average. Please keep this in mind when purchasing!

OUR RETURN POLICY:

Please read carefully our return policy to avoid any Hassle.

If you are not happy with your item, then you are entitled to a full refund (including the original postage cost) if it is returned within 30 days.

If you have simply changed your mind, then you have to cover return shipping costs (we suggest using a trackable method).

However; if the item is damaged faulty or in any way not as described, then you will not be responsible for the return postage. 

You will just open a return request on eBay it will provide you a full prepared return label on our behalf.

We will only accept the returned items that will be packed in their original packings. 

Please note that we accept the return if a customer claims about our item with a proof of picture within 30 days after receiving the item.

Please keep the original packing of the parcel safely. In the case of return pack the item in its original packing. 

As we will receive the returned item we will issue you a refund OR a Replacement after 24 Hours. 

We will not accept the returned parcel if it comes without its original packing.

Material:  Made of high quality nylon material.
---